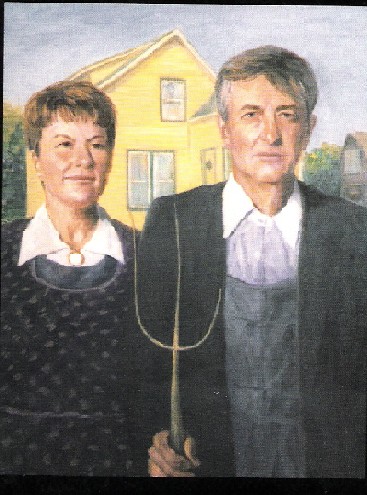 Inviting You and Other New Friends into Our Home is a Serious Business

But, hey, I figure if Grant would Robert could.

Portrait by Sandra Mason Dickson
(Who is capable of similiar machinations for you: 207-372-6687)

Thank you for checking us out. The humble Farmer Bed and Breakfast is so new that we don't even have any of those artificially sterile, professionally posed pictures to put up here for you yet.
We recently put in a 1500 gallon septic tank, though, so we can even accommodate your cousin from Massachusetts.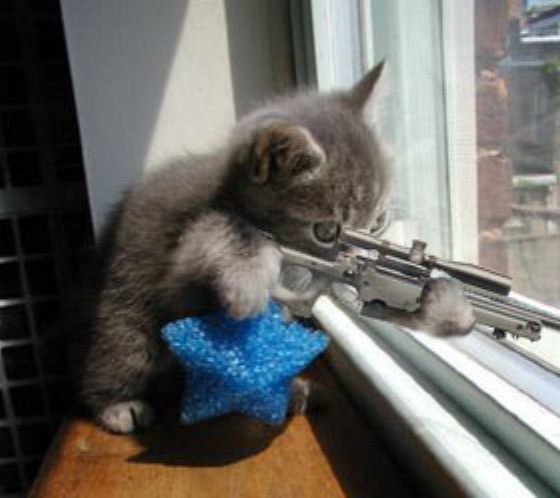 Good news for pet owners: Your pet is welcome here --- as long as it is a horse or cow.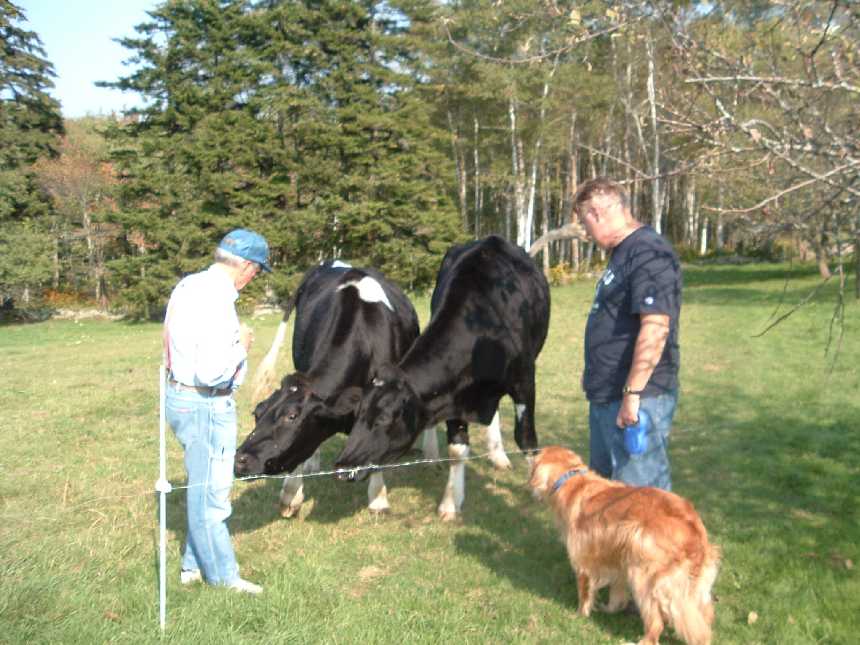 You might want to check out the back lawn that you get with the room at no extra charge. Your very own private back lawn consists of 82 acres of fields and woods that end up at a babbling brook that runs down into the salt water of Long Cove so you'd better leave a trail of bread crumbs if you plan to be home by dark.
www.TheHumbleFarmer.com/2006backyard.html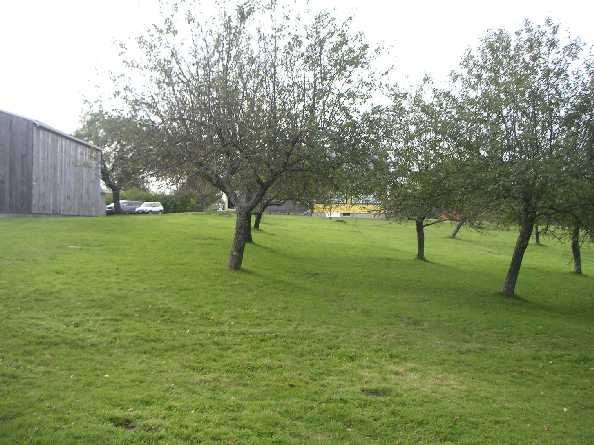 Last summer we had two three-year-old friends out back who contributed to our pastoral ambiance by mooing and grazing in the assigned areas. We do not talk about the inevitable "Eat Your Pet Week" which is celebrated all over the state of Maine the last Thursday in November.
If you smoke, you are welcome --- to stay somewhere else.
Tobacco chewers who don't drool are welcome, however, until I hear of someone dying from second-hand chew.
Children with well-behaved parents are given serious consideration.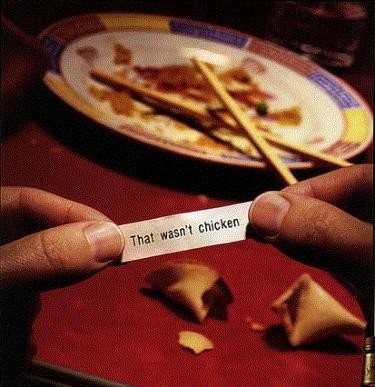 At The humble Farmer's Bed & Breakfast there are no unpleasant surprises.
Here's the kind of background I would find interesting if you invited me to stay with you in your home:
Our big old yellow house was built on May 11, 1811. That's the day Hezakiah Prince wrote in his diary that he helped frame it up. My great-great-great-grandfather, Samuel Gilchrest, who, with George Washington and other insurgents, fought unwanted imperialists at the Battle of Harlem, warmed his toes by the fire in this house. Over 100 years ago Larkin Gilchrest, a cousin to my great-grandfather, lived here. In 1970 I bought the house and everything in it from Lark's granddaughter, so I've been sitting in Lark's captain's chair and eating at his table for 40 years.
It was 20 years ago that Marsha moved in and turned an old bachelor's wretched mess into a home.
Here's a Review of The humble Farmer B&B, copied without permission from the winter 2004 edition of Dr. Rick Churchill's People, Places, Plants magazine, New England & Upstate N. Y. Edition. It is a sidebar on Dr. Rick's article on Monhegan.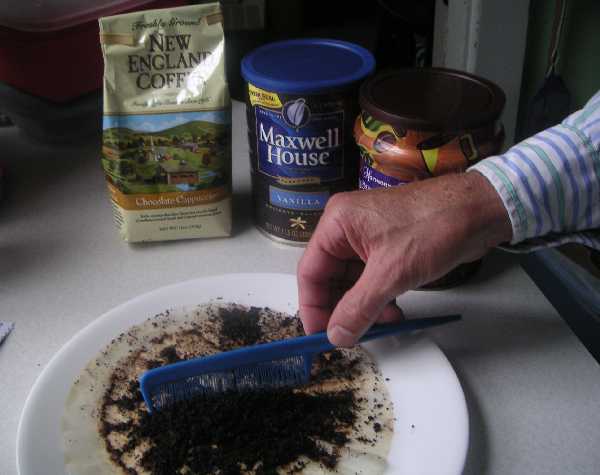 Your friends who have stayed here have probably already told your about our well-groomed grounds.
Photo by Roland Watier, Founder of The Golden Raven Storytelling Circle of Maine.
June 30, 2004. Here's the kind of information that, in my inexperience, I didn't realize was necessary for a 2-room Bed and Breakfast, but obviously is. My thanks to my good and valuable friend Shari at the Rockland Chamber of Commerce for calling it to my attention.
hi Bob
I went onto your web site and there is some information that is not there that I will need for the area guide chart and our web site.
Do you accept credit cards?
No. We tried, but discovered that taking credit cards is a tremendous and unnecessary expense for a two room Bed & Breakfast.
Every month the bank billed me for the service, we only had one person ask to pay with a credit card for our entire first season, I wasn't clever enough to figure out how to work the machine, and, as I recall, it then cost me something like $300 just to get that blood-sucking American Express bank to cancel the service.
Wheelchair access?
No. But we now have a chair lift for the second floor. And for three years or so I pushed a wheelchair up a rather substantial ramp outside. I made it out of the old town dock that I dragged home from the dump, but when my buddy Bill didn't need it any more I hooked onto it with my tractor and hauled it out back. However, if someone would give us a couple day's notice, I could haul it back. Those who sit in wheelchairs and those of us who have pushed them realize how important ramps are.
Air Conditioning?
Yes. But that's a joke in St. George, Maine, isn't it? When friends from away call and ask if we have an air conditioner I laugh, because there is hardly a day in July and August when I do not wear my snowmobile suit. (Keep going and you'll see a picture of me in snowmobile suit and sweater.) All last August I had a big "Heated Room" sign out front.
The mean temperature for July and August in St. George, Maine is 64 degrees. Our average high for July and August is 71.5 degrees. Our average low for July and August is 57 degrees.
Although you can't see the water because of the forest that we haven't been able to keep back since we got rid of our cattle and horses 100 years ago, the frigid water of Cutler Cove is only about 1,000 feet from us on the southwest, and Long Cove, the eastern boundary of our farm, is only about 5,000 feet from us on the east. On any hot, sticky Thomaston July day when you drive down toward us on Route 131, just about the time you pass Harjula's Dairy, you will feel a blast of cold air.

St. George weather for the next 10 days
Our weather forecast for July 5, 2004 calls for a high temperature of 67 degrees and a low of 52.
Our weather forecast for July 5, 2009 calls for a high temperature of 66 degrees and a low of 57.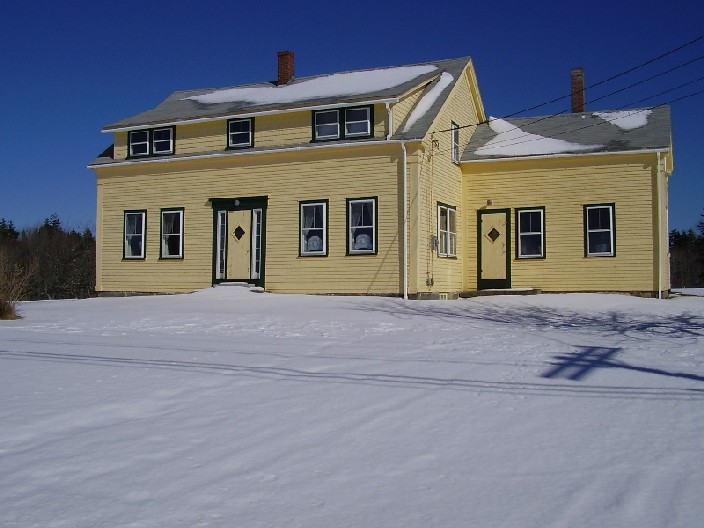 By now the perceptive reader has ascertained that an air conditioner at The humble Farmer Bed & Breakfast is just about as useful as a credit card machine.
Yes, there are extra warm blankets in the closet.
Sorry, the only electric blanket is still on our bed.
Fireplace?
No. It was torn out around 1854, but the original 1811 mantle is still stuck to the living room wall.
TV in room?
Si! Por su puesto.
Time Warner's cup runneth over: Friends from away will be delighted to discover that even way out here in the willywags they can enjoy preachers quoting from John 14, half nude girls demonstrating exercise machines, sales pitches on jewelry and weight loss, a very fuzzy channel where people appear to be playing tennis and two channels where Clint Eastwood speaks a dubbed in French augmented with French subtitles.
Telephone in room?
(Yes Shari, We have Ooma, so, as long as you don't chat with your mistress in Argentina for two hours, we even encourage friends to use the phone on us. Cell phones might not work here.)
Is there a common room with TV or Telephone available for a guest to use?
Shari
Shari M. Closter
Assistant Executive Director
Rockland-Thomaston Area Chamber of Commerce
Yes, Shari. Our downstairs B&B room is a new attachment to the back of the house. It is accessed by a private back door. It is simply a private apartment.
You should know that our friends Lawrence Foldes and Victoria Myerink lived with us for several weeks in the summer of 2005. They were opening their Maine made movie Finding Home and our home was their base of operations from where they made hundreds of phone calls. They used our phone because Larry could only get his cell phone to work by lying on the floor in the northwest corner of the northwest upstairs bedroom.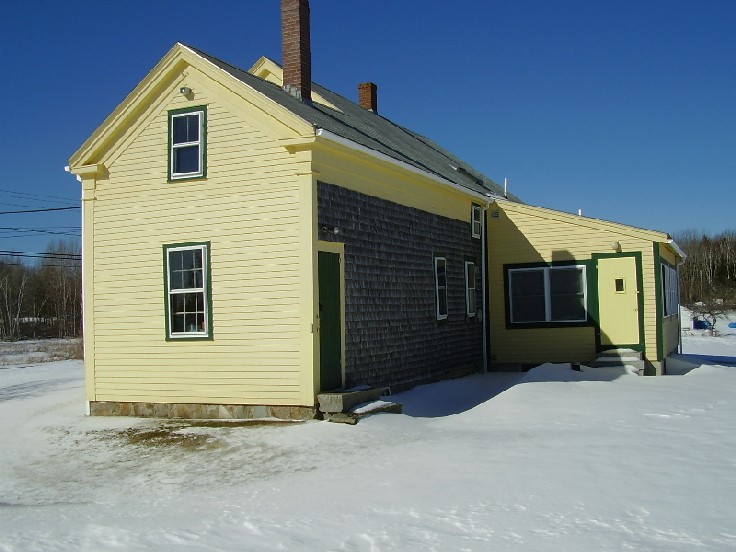 When one steps from the new back room into the main house one enters what could be called a common room with a TV and telephone.
A reminder here --- although we rent one bedroom (with shared bath) upstairs in the main house we generally only use it as an overflow for families of 4.
Thank you again, Shari, for calling these egregious omissions to my attention. Friends reading this for the first time might realize by now that Marsha and I offer not just a comfortable, homey room with a great breakfast, but an unforgettable cultural experience.
+++
These are the types of testimonials I really would like to post here, but don't dare:
"humble's bed was even more comfortable than the one provided for me at the Chateau D'If." Edmond Dantes
"Wish I could get away this summer just long enough to eat one of Marsha's blueberry muffins." Buddy Cianncci
+++
Here are the type of testimonials I'm glad I don't get.
"I found your 'shared bath' delightful." Senator Larry Craig.
And I think this person was trying to write a testimonial about an Inn in Rockland. I stumbled upon this unfortunate comment while trying to locate David Stone who was staying there.
Google this sentence and read it on that inn's web page for yourself.
"Since I was stying at the Inn in the off season I was able to view almost every room."
+++
Our season runs from May first until November first.

You'll love our El Cheapo Maine Coast Rates.* $95 first night for the first floor new back room with the private entrance, private bathroom with shower. $90 for each additional day. $80 for our one overflow bedroom upstairs for others in your party (shared bath with tub) --- which we hope we will never need to use. The room, not the tub.
What makes The Humble Farmer Bed & Breakfast unlike any other B&B on the coast of Maine?
Not a single thing.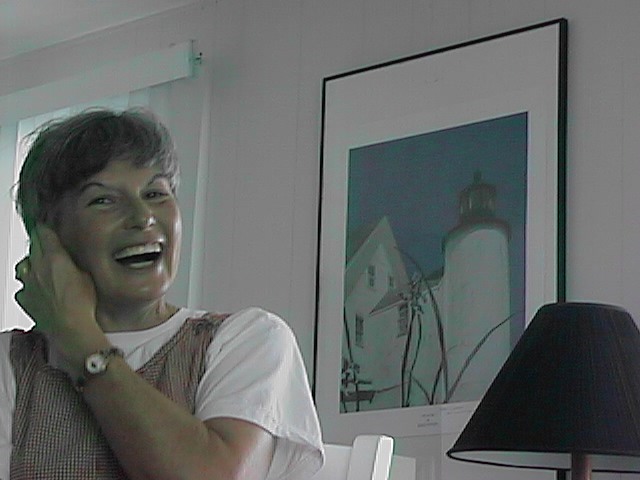 Here's Marsha, your hostess, on a day when she was feeling mean and ugly. Everything is relative.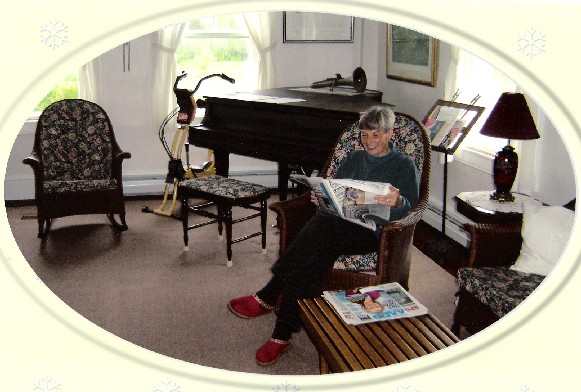 Marsha at home.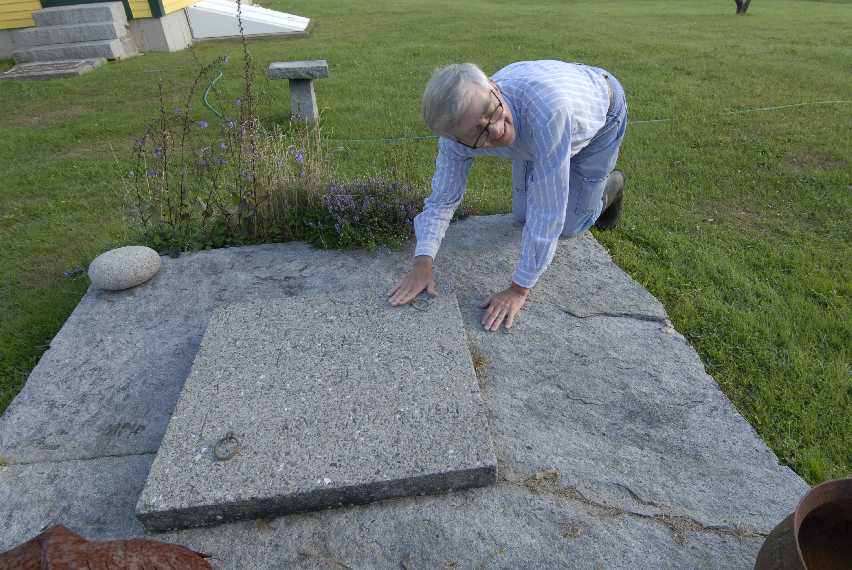 This answers the question: "How are you this morning?" I'm obviously feeling well.
July 4, 2003. Shine in Miami writes:
Renee and I stayed at the Humble Farm from June 20-27. It was warm and cozy. We were very comfortable and relaxed. Robert and Marsha treated us like family (except without the arguments). We especially enjoyed the large back area and woods.
Marsha made anything we wanted for breakfast, unlike other B&Bs where the breakfast is the same old every day. Although the farm is away from the hustle and bustle of typical B&Bs in tourist areas, it is only a short drive to Tenants Harbor, Port Clyde, Rockland and other places of interest. Like Arnold Schwartznegger said,"I'll be back".
(Shine has a deposit on 7 days in July 2006)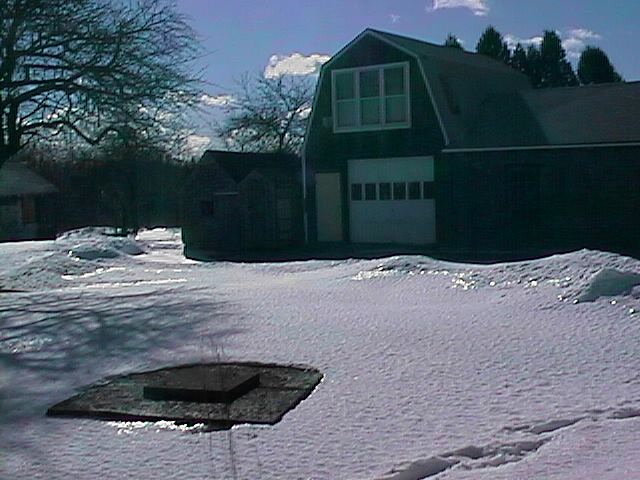 What? In the picture below you recognize the clothes pole, the apple tree and the old car in the barn?
You never forget anything, do you? You saw them all in a Stephen Muskie photo that was published in Yankee magazine back around 1988, and since then in Edgar Allen Beem's excellent book, Maine. You'll have to wait until you get here before I tell you how a well-known psychiatrist explained what she called "symbolism" in that picture. Up until a recent hour, I was pleased to be published in Stephen's photo gallery, which includes Martha Stewart.

Stephen Muskie Page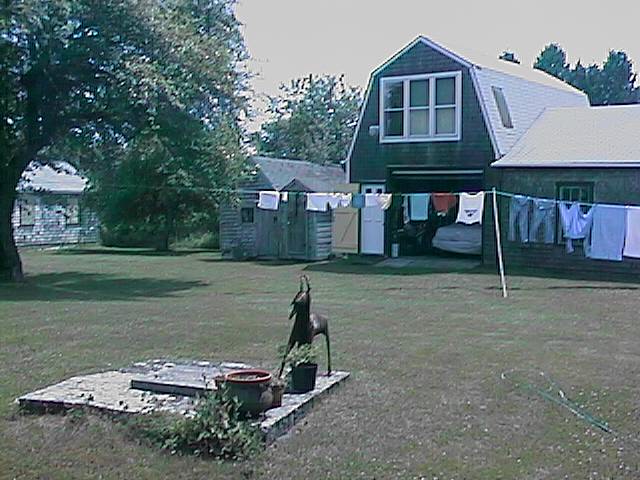 From time to time Someone Has to savor the entire Maine experience. Yes, The humble Farmer Bed and Breakfast can accommodate you.
Between the garage and the tool shed, you will notice a tiny building. When I bought this farm, the only running water in the house went to the kitchen sink, and the tiny building was a vital, integral component of every day life on this farm.
The edifice has been painstakingly restored to mint condition, and it now rests there, crying out for you. Please compare these features with the one you have at home --- hook to hold the door open so you can see to read, lace curtains, shelf to hold your lamp or candle, and on the floor --- an orange shag carpet, where you can wiggle your toes and think of your friends back in the office.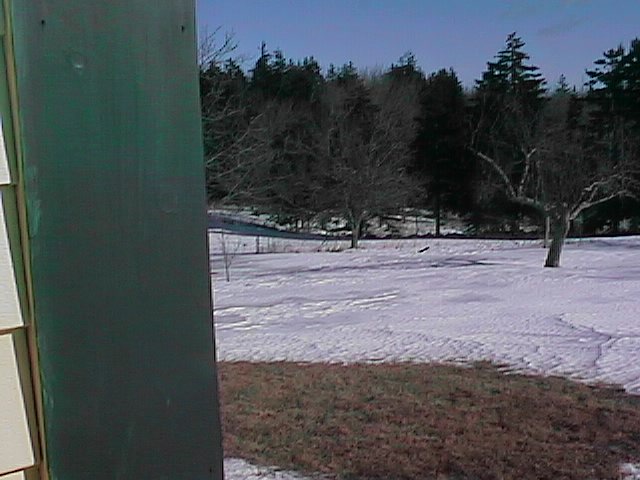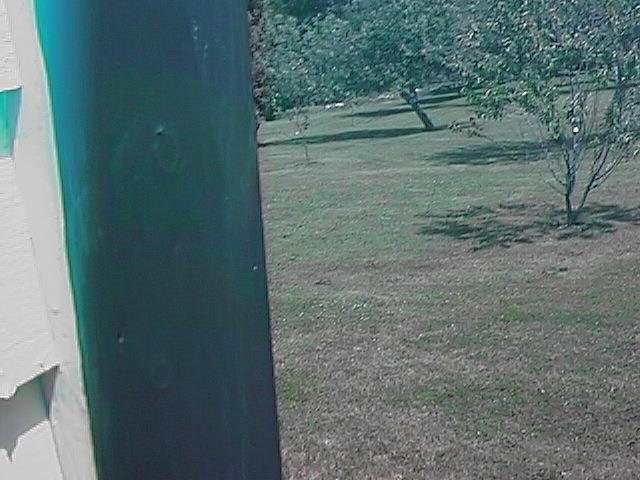 Imagine yourself, if you will, coffee cup in hand, walking out here on lush, green, organically fertilized grass, unconsciously aware of the subtle drone of bees, as a redolent summer breeze burns off the ubiquitous Maine morning fog.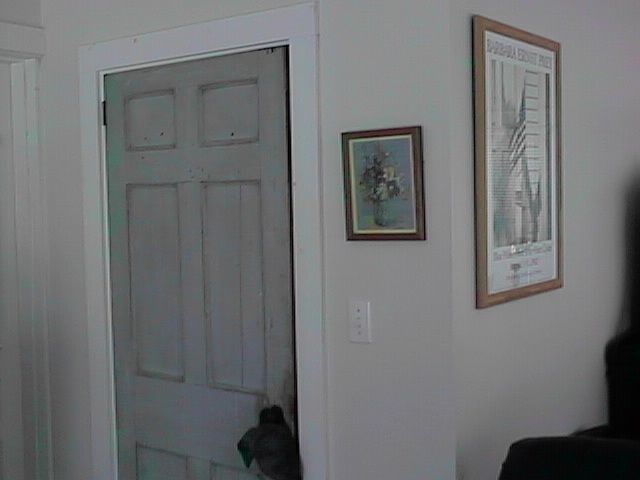 For years you've studied the ratty old Maine doors in Andy Wyeth's paintings and you've wondered how he gets them to look so grimy and wretched. When you hang your clothes in this closet you will realize that he simply paints what he sees.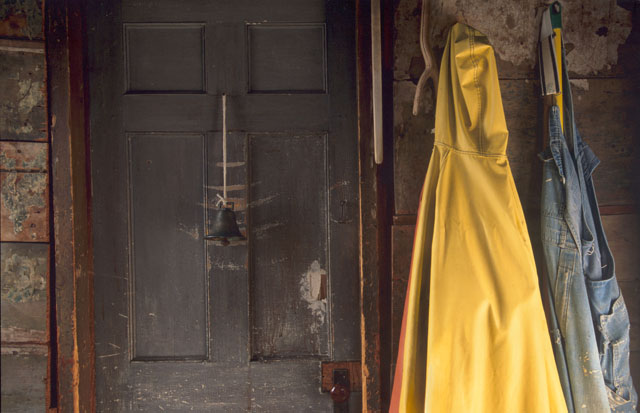 Canadian professional "Photographer of the Year" Janice Lang won first prize for this picture of our back door. It is the entrance to our library. You will recognize the two white wooden things hanging on the wall as sticks that you use to poke your wash as it boils on the stove. Visitors have to ring the bell long and hard or just walk in, because I'm deaf. Over 100 years ago this room was the summer kitchen where Larkin's wife, Abby, fried greasy pork chops, so the ceiling beams are black. Andy Wyeth never painted anything but what one of his art-loving fans would steal it, so we are grateful he never saw our bell or our door.
OK, you're right. A bit of advertising overkill with the life-sized plywood caricatures of humble out here by the road. But we only use them on special days when I'm doing a stage show at some nearby place, like out at the grange hall.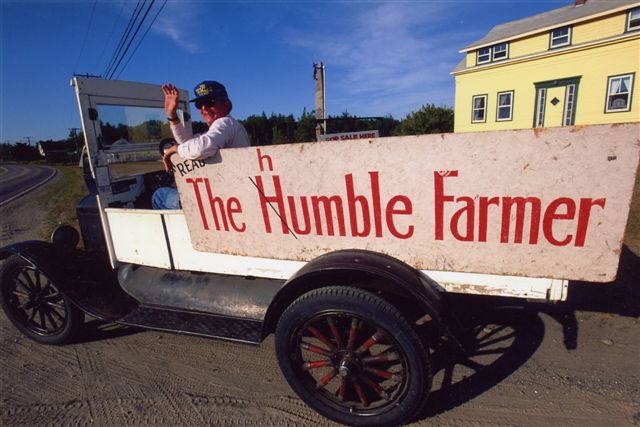 Usually there's nothing out front but my 1919 Model T with an 8 foot sign on it.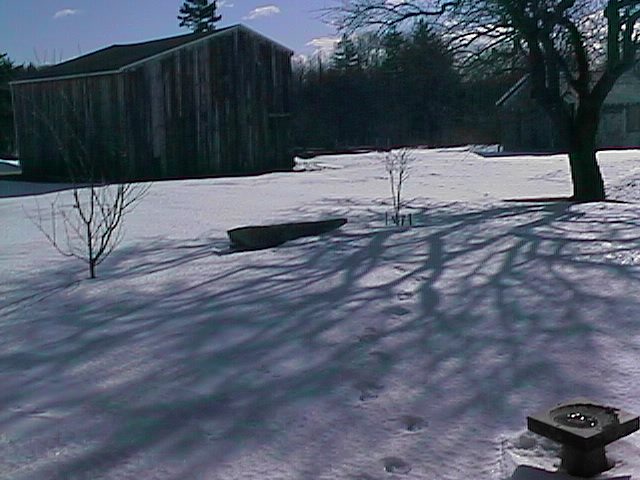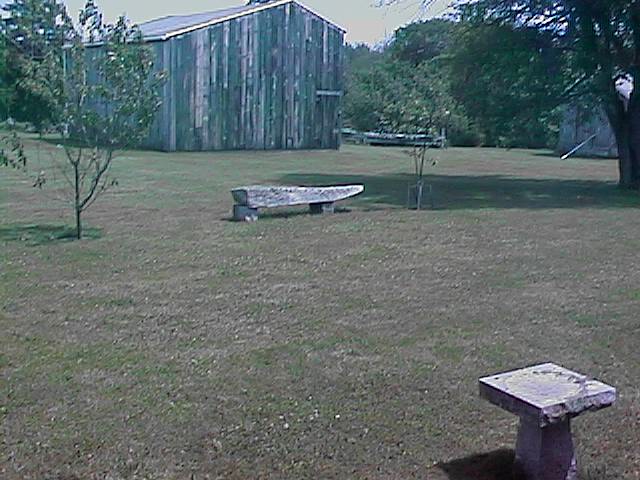 One of the most breathtaking experiences imaginable is watching a full moon come up behind a Maine henhouse on one of those balmy Maine evenings in July when the temperature is right up there around 48, 49 degrees...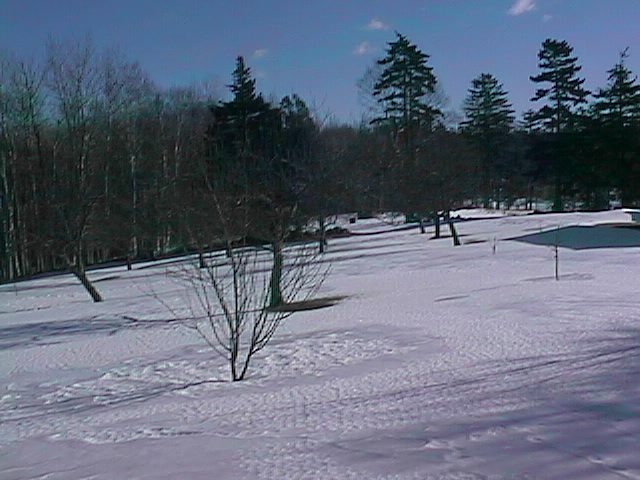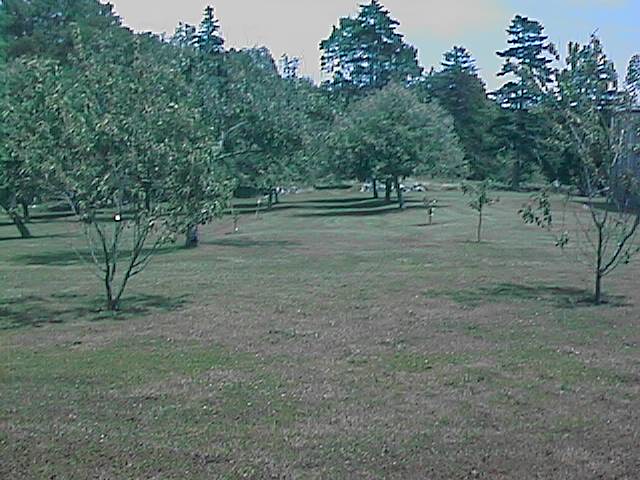 There are 80 or more acres of woods out back for you to tromp around on as if they were your very own. We're talking wilderness here. You never heard of a guest at a Camden or Ogunquit B&B being advised to leave a trail of bread crumbs.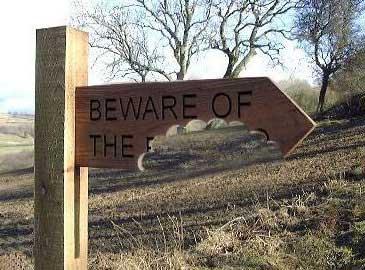 I saw fresh moose tracks out there last fall. Big moose tracks. The back of our farm is on Long Cove, so, if you don't mind the black flies, and aren't scared of moose, coyotes or rutting woodchucks, you can walk a mile or so back until you come to the salt water.
If all this this sounds good to you, you must be from away.
When Marsha & I travel, the price is the bottom line. We are not interested in pool, gym, continental breakfast, view, location or any of the dozens of other advertised free extras (which you do pay for). The only thing we want is the lowest possible price for a room that doesn't stink of stale smoke, and where fresh smoke doesn't leak in through the walls.
True, sometimes we wish we'd paid a bit more....
because here's what greeted us at the front desk of the lovely Westwinds Inn in Key West where we stayed in February.
"Westwinds a classical community Inn" it says in the colorful brochure. The Key West folks already had our money. Which reminds me, your convenient parking space is included in our price.
So, do we have a better price for you?
Yes. If you are a native speaker of Swedish, Norwegian, Danish, French, Spanish, Italian, or German and will speak only your native language to me, we will attempt to negotiate a better price with you in that language. One word of English, and you forfeit.
What? You are from Amsterdam, Groningen or Eindhoven and we didn't mention you? Yes, Marsha and I can struggle by in your beautiful language, but we know that a Dutchman would slash his wrists before he would speak anything but English to an American.
++++
From time to time we are sounded out by these cosmopolitans who write timid letters of inquiry like this:
Beste bescheiden boer,
Wij gaan van de zomer op bezoek bij Abbie en Mike McMillen. In de e-mail communicatie over het hoe en wanneer van ons bezoek wees Abbie ons op het bestaan van een zeer kleurrijke figuur in Maine. Deze persoon schrijft op zijn web-site dat Nederlanders liever hun polsen doorsnijden dan in hun moedertaal te communiceren met buitenlanders. Dit had Abbie niet van ons verwacht (ondanks het feit dat wij tot nog toe geen woord Nederlands tegen haar gesproken hebben). Zij vroeg ons dan ook hoeveel waarheid verborgen lag in deze uitspraak. Met deze mail aan u, beste Robert, proberen wij de genoemde uitspraak wat te verzachten. Wij kunnen u in ieder geval verzekeren van het feit dat wij als Nederlanders geen voorliefde hebben voor zelf-mutilatie. Wel is het zo dat wij in het algemeen niet het geduld kunnen opbrengen om te wachten op een buitenlander die zoekt naar de spaarzame woordjes Nederlands die hij kent terwijl wij vaak redelijk welbespraakt zijn in het Engels (eigenlijk best wel arrogant, nietwaar). Echter wanneer een buitenlander aangeeft dat hij graag Nederlands wil spreken, dan zijn wij zeker niet te beroerd om aan dit verzoek te voldoen! Kortom wij zouden graag eens komen bewijzen dat uw uitspraak over Nederlanders op uw web-site niet algemeen geldig is (hoewel de web-site spreekt van Amsterdammers en dat is natuurlijk wel een volkje apart; NB: wij zijn geen Amsterdammers, wij komen uit Eindhoven).
Maar goed, dan het praktische aspect, hoe zo'n ontmoeting te regelen? Wij hebben natuurlijk een prima plaats om te logeren (bij Mike en Abbie), dus een overnachting in de B&B is helaas nu niet aan de orde. Abbie suggereerde dat wij elkaar welicht konden ontmoeten voor avondeten in de B&B. Echter op de web-pagina van de B&B wordt niet gesproken over een restaurant bij de B&B. Is de webpagina hier niet volledig of is Abbie in de war? Wellicht reiken Marsha's kookkunsten verder dan het ontbijt! Het zou ons in ieder geval plezieren om aan te tonen dat niet alle Nederlanders te weinig geduld hebben om in hun moedertaal te spreken met buitenlanders. Daarom de vraag: is het mogelijk om tijdens onze trip van Boston naar Maine op maandag 23 Augustus (dat is de huidige planning) een ontmoeting te regelen? Graag horen wij van u wat de mogelijkheden zijn. Met vriendelijke groeten,
Robert Cullen & Chantal Woltring
++++
And here is Rainer H. Elting

who, one fine afternoon in July of 2006, drove in the dooryard looking for a Bed & Breakfast, came in, sat down at the piano, and played Bill Evans for 4 hours. When Marsha finally got him to stop long enough to eat, he and his wife Sabine stayed for 3 days. We have since visited them in Frankfurt. So, here, on .wmv for your edification, is Rainer H. Elting, extolling the benefits of The humble Farmer Bed & Breakfast auf Deutsch.
++++

Click Here and Learn How to Speak German

++++
Urlaub in Traum Ferienwohnungen
Bellmundo -- Ferien in Maine --- A B&B locator for Germans
++++
Qui è il sig. Massimo Santoro da Carnate, Italia chi ha guidato nel dooryard che cerca una base & una prima colazione, extolling i benefici della base & della prima colazione humble del coltivatore in italiano.

Massimo Santoro da Carnate, Italia

++++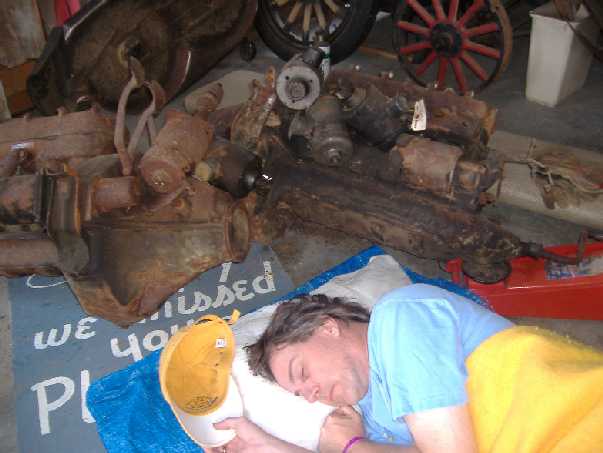 We Can Always Make Room. Peter Nytomt from Sverige, and now Argyle, TX

++++
Here is Bradley Hendershot, an artist friend from Chadds Ford and Monhegan, painting verbal portraits.

http://www.bradleyhendershot.com/

++++
From time to time we have such a famous guest that he wishes to remain anonymous.

But, when Vladimere Petroski, who, as you know, plans to clean house at the Cannes Film Festival in 2011 with his titillating "Nudes on Sandy Monhegan Beach" documentary --- well, when he sat at our breakfast table across from that noted artist from Chadd's Ford, Bradley Hendershot, I prevailed upon him to say a few words just for you. Please do not copy this video, as Signore Petroski came to St. George to escape not only the paparazzi but the mamarazzi.
++++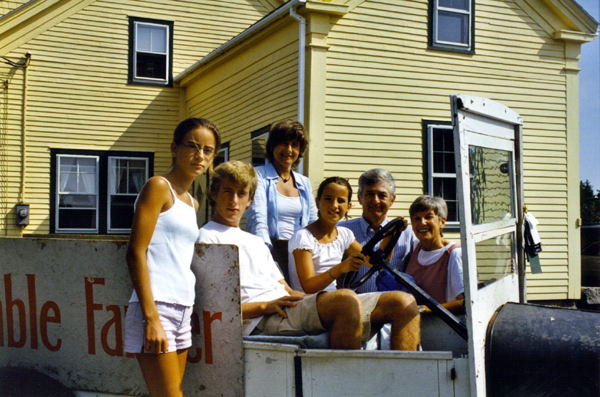 Here's humble and Marsha with the Sergi Garcia Roig family from Barcelona. They claimed the discount by speaking Spanish.
Solo unas palabras desde Barcelona (España) con una foto de nuestra agradable y calida estancia en vuestra "granja". Ha sido una de las experiencias mas comentadas a nuestros amigos y familia, por lo que a lo mejor habrá muchos españoles que querran ir a Maine.
Warmest Regards,
Sergio
Sergi Garcia Roig
The name of the children are Victor, Paula (with glasses) & Cristina (driving) and Clara [the abogado & madre].
The e-mail was written in Spanish that is the same as Castillian. Best regards,
Sergio

Sergio and Clara sent Victor to live with us for the entire month of July, 2006. They knew that I would be able to help Victor learn to speak perfect English.
En/Na humble ha escrit:

Here are Doris & Rolf just after we finished riding in the Lobster Festival Parade in Rockland, August 5, 2005.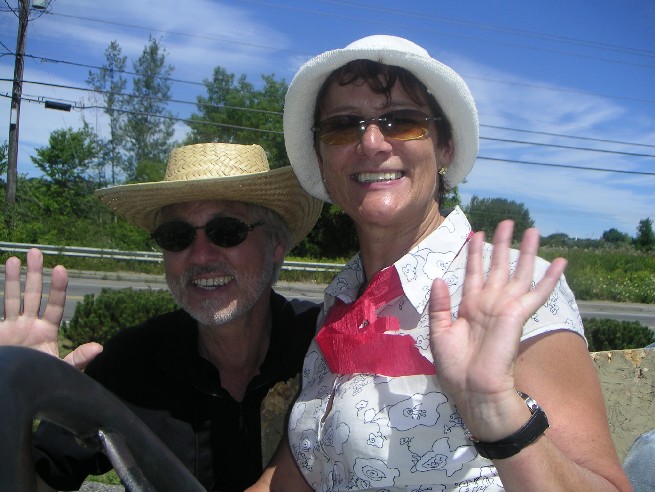 Doris writes:
Wenn man reist, weiss man nie was einen hinter der naechsten Ecke erwartet. Aber wenn Du "the humble Farmer" liest, weisst Du, dass eine Ueberraschung auf Dich wartet. Uebernachtung und Fruehstueck waren super, aber vor allem danke, Marsha und Robert, fuer Eure Gesellschaft, fuer die Gespraeche und fuer Eure Gastfreundschaft.

Urlaub in Traum Ferienwohnungen
And here is Martin Nicholson from England whose hobby is driving a monster tractor in tractor pulling competitions all over Europe.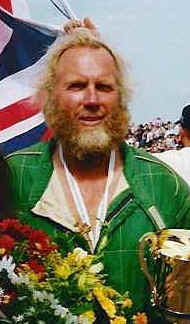 "Recommended to anyone who wants to move into somebody's home and become part of the family. We loaded the dishwasher and even pushed the Model T when it ran out of gas.

Witnessing a humble Maine farmer struggle to understand a humble digger driver from England has been a cross cultural experience.

One of the luckiest stops we made. We will long remember your friendship and hospitality.

Warning: Allow plenty of time for this stop."

http://members.lycos.co.uk/peaslakepulling/
Martin Nicholson
& Cyndie Gould
Wayside Cottage
Ewhurst Road
Peaslake, Guildford, Surrey, England

On September 16, 1776 an Englishman shot my great-great-great grandfather in the stomach, but I assured Martin that we don't even think about it any more and that he was welcome in our home.

Jon and Lisa, friends from far away Wisconsin, discovered us through this web page.

Jon says the picture of the cat got his attention.

Here Jon demonstrates how Wisconsin people suck the juice out of a lobster claw so as not to waste a bit.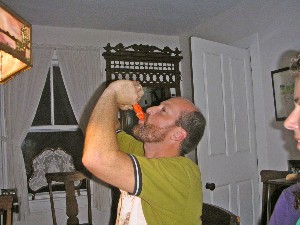 Jon took this picture of me and Marsha sitting down.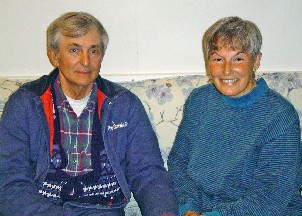 Robert,
I hope this message finds you well.
I couldn't find the words to describe what a wonderful experience Andrea and I had with you and Marsha at the Humble Farmer Bed and Breakfast.
The great stories, great food and great company can't be beat.
Thank you for allowing us to drive your 1919 Model T truck, as well!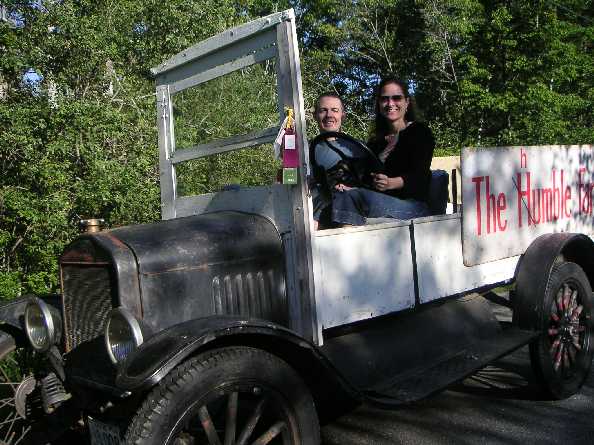 We both had a wonderful time and would recommend you highly.
We look forward to staying with you again soon.
Thank you and best regards,
Stewart
Stewart J. Foley, CFA
Farmington, CT 06032
+++++
Rich and Lucy Gavin came all the way from Chicago. They stayed with us three different times this summer --- three days each visit.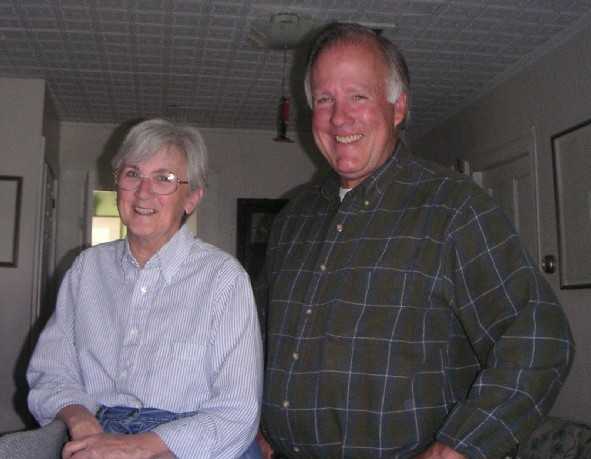 Lucy looks happy in this picture but when I gave her the final bill she said she was going to cry. When was the last time you got a bill like that?
Nancy had to be coaxed to eat fresh blueberries.
But humble doesn't have to be coaxed to eat anything.
We accommodate the handicapped. A neighbor gave Marsha a stair chair this summer.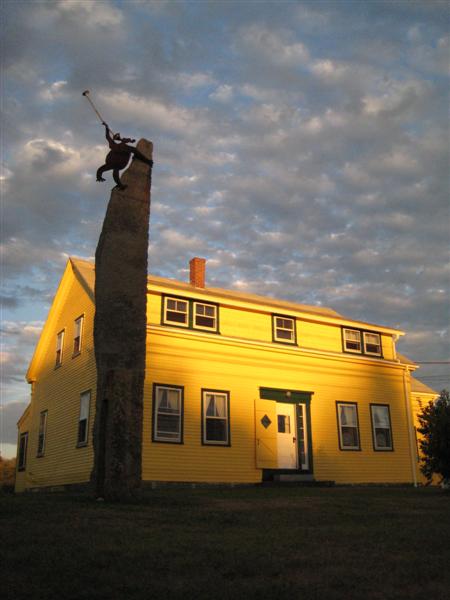 The inscription on this erection says, "St. George, Maine --- Center of the Universe."

August 10, 2007 Steve Williams Photo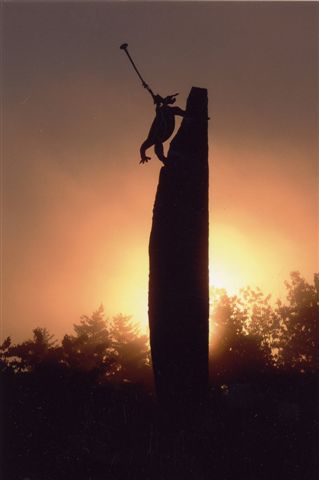 On our front lawn you will see a 16-foot granite obelisk. On the top is a 5-foot steel monkey blowing a chrome bugle. I put it there to make it easier for you to find our Bed & Breakfast. If the monkey is not blowing a bugle, you have stopped at the wrong house.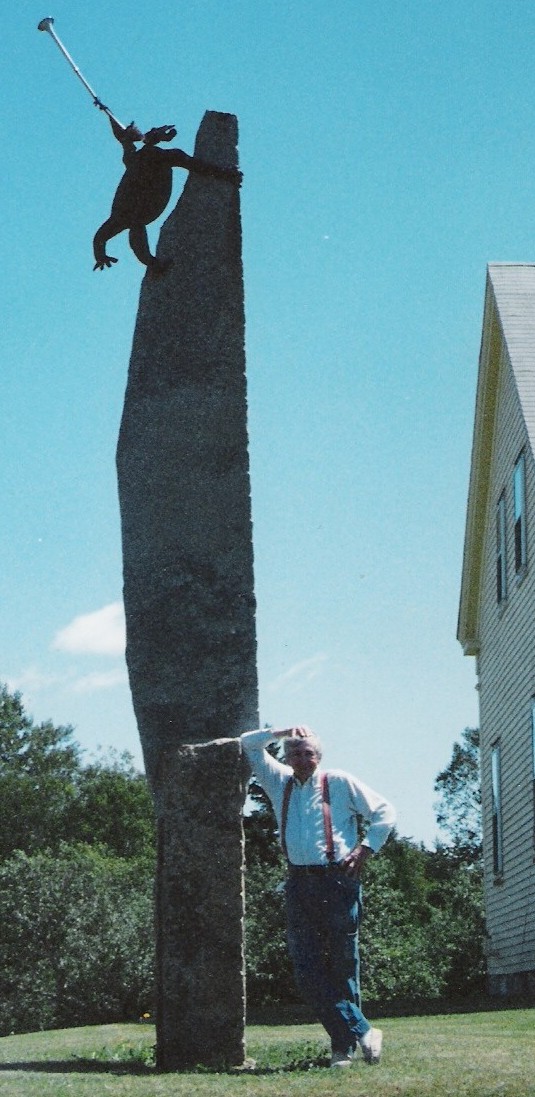 If you see me standing by the monument in the picture below, you have taken a wrong turn and are in Grebbestad, Sweden.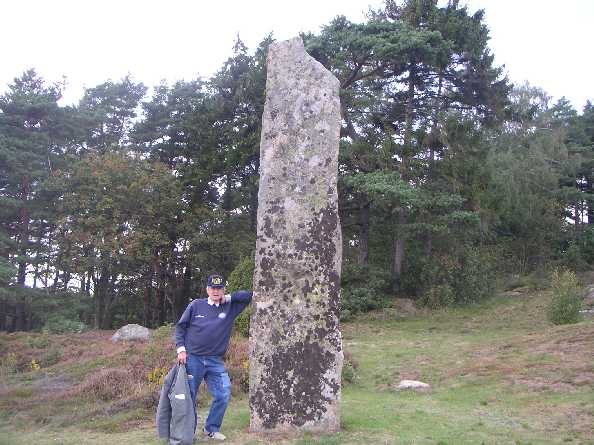 If you are in Sweden, you could stay here at Skanstulls Hostel
But --- is there a down side to The humble Farmer Bed & Breakfast? Yes, there is. Marsha told me that if I were planning to invite friends to visit, I'd better learn how to make beds with hospital corners.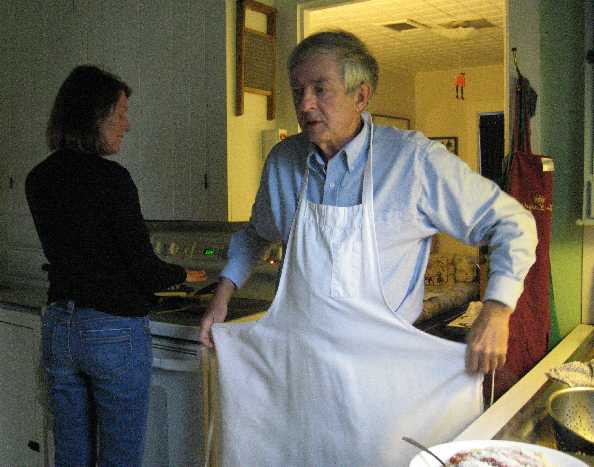 humble gets ready to do the supper dishes as Marsha's friend warms her hands over the stove.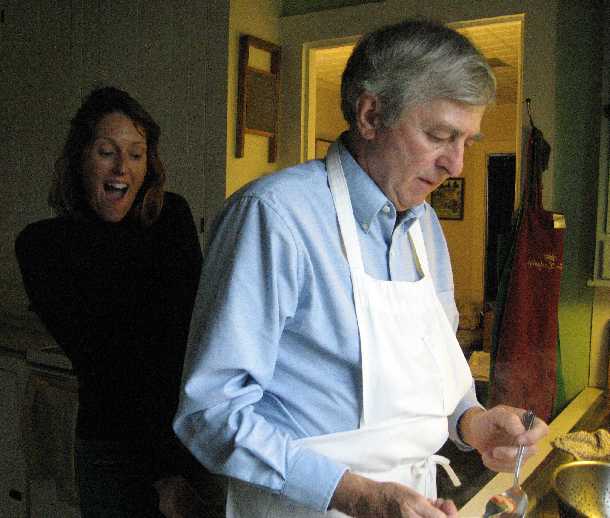 She was cold because she had been living on a boat for a long time.
She had been living on a boat for perhaps too long a time.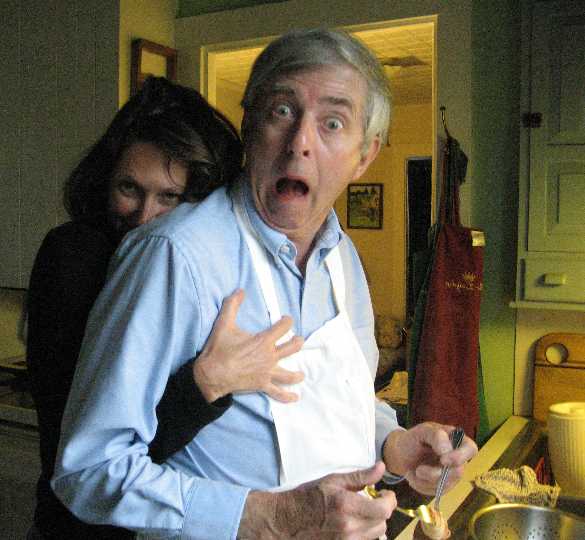 We recommend that people who live on boats for a long time spend some time ashore before visiting us.
A month later when we visited Marsha's friend in Mount Dora, Florida, her hands were warmer. Probably because someone had returned her cat. And because I'm allergic to cats, Marsha and I stayed in Mount Dora's Grandview Bed & Breakfast with Mel Powell and Andy Mason. They know how to feed and the room was elegant. Mount Dora is a very nice town. Check it out. Small hills leading down to a lake. 20 or so years ago the Mount Dora newspaper ran my column.
http://www.grandviewbb.net/index.html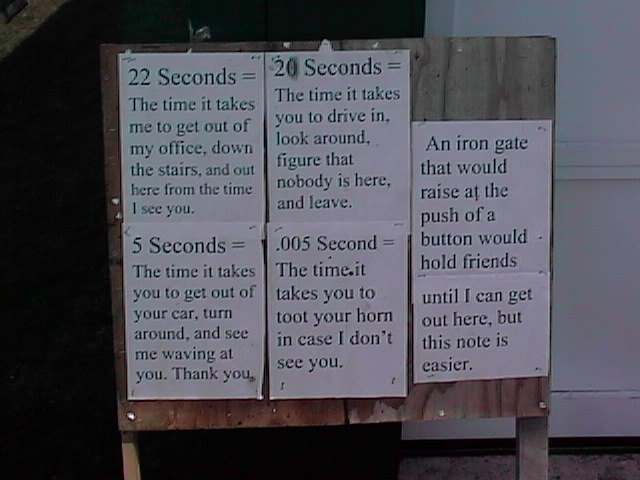 Old and New Friends --- to check out availability at The All-New The humble Farmer Bed and Breakfast, please call us at 207-226-7442. It's an ideal spot to overnight so you can catch the 7 A. M. Port Clyde ferry --- the famous Laura B. --- to Monhegan.

In the other direction, we're only 12 miles from the Wyeth Center in Rockland

http://www.farnsworthmuseum.org/wyeth/wyeth.html

Going inland, we're only 28 minutes from Morse's Sauerkraut in North Waldoboro

http://www.morsessauerkraut.com/

and 20 minutes from Camden. Your email will generate a prompt response.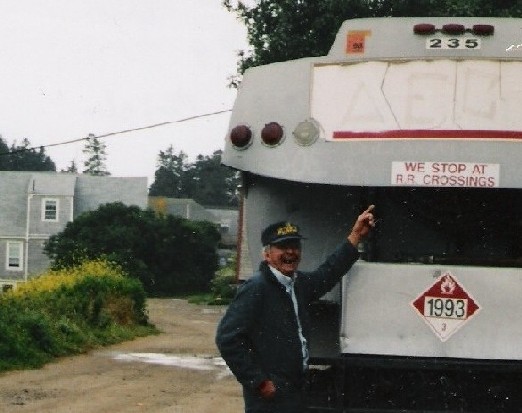 Humble points out one of the unforgettable things you can expect to see on Monhegan. Bill Meisle photo.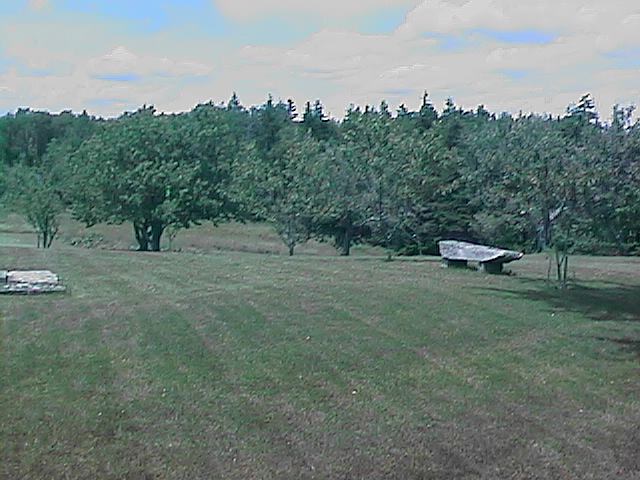 : thehumblefarmer@gmail.com
Here's more than you want to know about St. George, Maine


St. George, Maine Community Profile

Here's Maine's Most Popular Down East Vacation Guide:


Plan your vacation with this easy to use guide.

And check out this handy site for upcoming Maine events:


Upcoming Maine Events

Directions on Bing to The humble Farmer Bed & Breakfast from Portsmouth, NH


The humble Farmer Bed and Breakfast is on the eastern side of Route 131 1/4 mile south of the Spruce Head Road: (Route 73).
Locate The humble Farmer Bed & Breakfast with this map

If you carry one of those gismos that tell you where on the planet you are standing, if it says 114 feet above sea level ---
N 44.00.767'
W 69.11.857'
you are standing on our back steps.


Directions on a Better Map


Marsha and humble live in a yellow house on the eastern side of Route 131 1/4 mile south of the Spruce Head Road: (Route 73).
Locate The humble Farmer Bed & Breakfast with this map

Notice that when you are heading south on Route 131, it curves to the right. If, when you are right abeam of where Route 73 goes off to the left, you don't turn your steering wheel for 1/4 of a mile, you will find that you have run right into our big old yellow house.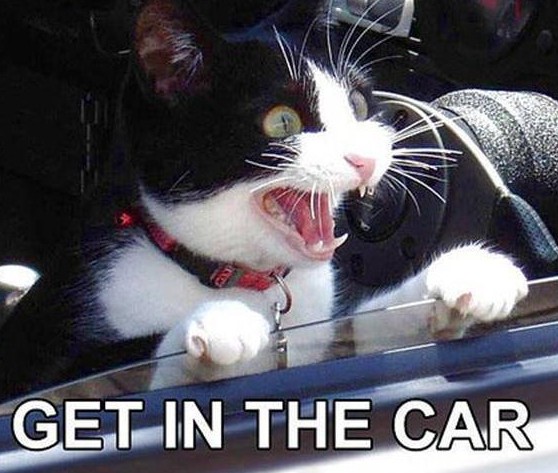 We hate to see you leave.

+++++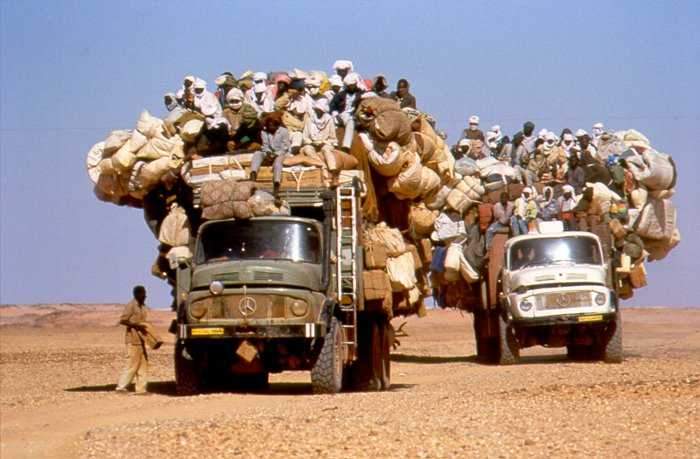 We think you'll find The humble Farmer Bed and Breakfast to be an unforgettable cultural experience and not just an inexpensive place to spend the night. We do expect you'll be back with all your friends.
---
Return to top.
---
© 2014 Robert Karl Skoglund